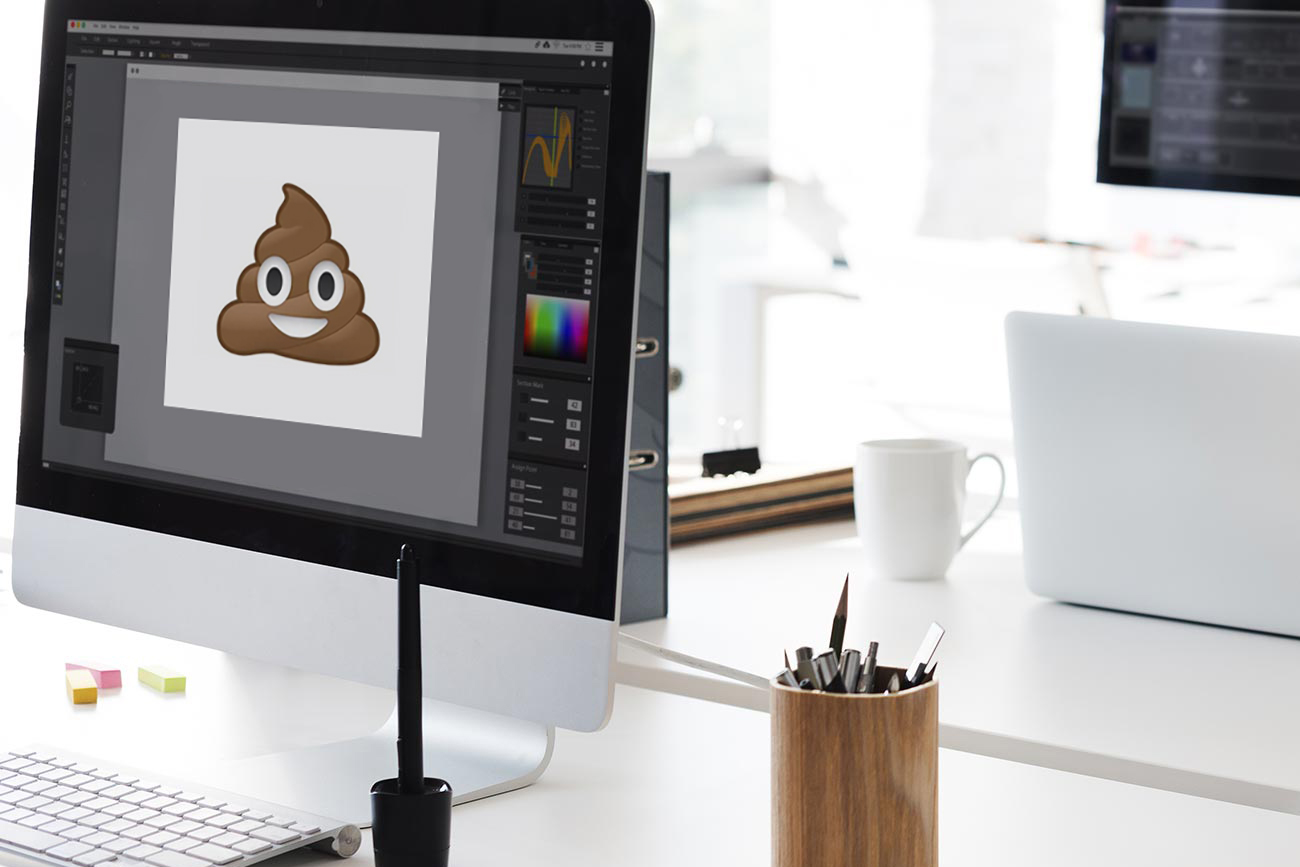 Things a Sh*tty Web Designer will and wont tell you.
Having a website is extremely vital to your business, I'd say it's the most important thing these days actually. Finding a quality designer can be pretty tough especially if you're new and totally unfamiliar with the process of getting a website made. Domain names, hosting, turn around time and the cost to build the actual site can be super overwhelming for a beginner. You're likely to run into plenty of freelancers who have no business sense, very poor customer service skills and sometimes their design skill level & knowledge may even be questionable. Here I will tell you some red flags to look out for when hiring a designer to work on your project.
1. You should purchase your domain name and hosting from godaddy.
Now godaddy isn't terrible but it isn't as good or as cheap as other places. It's just pretty recognizable to the average person because they're honestly the only hosting company to advertise on tv. I'm leery of any designer who recommends them because it may mean they don't have much experience with anything outside of it. Godaddy's 99cent (without coupon $2.99) domain names sound amazing until you realize they're not actually 99cents ($2.99) after the first year they are $9.99 and then you have to pay an entire $7.99 extra to keep your personal information private. What do I mean by personal information? I'm talking your full name, address, email and the telephone number you used when filling out the information to purchases your domain name. Most designers wont warn you and it's not totally obvious to newcomers that when you purchase a domain name if you don't pay to keep the information private it actually becomes public and anyone can look it up. Now after the first year with godaddy you will spend around $19 per year just on your domain name. There are places like namecheap.com that cost just $11 for the first year and keep your information private for free, the first year. The following year to renew your domain and keep the information private it's just $13.
Godaddy's hosting packages are also more expensive than most places, starting out at $7.99 a month it seems safe to go with a legit company that seems familiar on tv but it's not. What they don't tell you is the hosting has a lot of limitations. For one you're on shared hosting which means you share space with their other customers. The more costumers the more limitations everyone will have as far as website speeds etc. How much server resources one customers uses will have an effect on everyone else and once their servers get overworked they will start throttling (slowing down) sites. They may even email you notices to let you know your site is eating up space or totally shut down your site. This is common on shared hosting but very common on godaddy.
Godaddy's Economy Package $7.99:
1 website
100 GB storage
Unlimited bandwidth
100 email addresses
VS.
Hostmonster.com's Baby Plan $4.95:
Unlimited websites
Unlimited storage
Unmetered bandwidth
Unlimited email addresses
You will also have a very easy to use Cpanel and access to 1 click install scripts such as wordpress and tons of others. Getting affordable and easy to use domain names and hosting is very important. Having the ability to add multiple domains to your account is important if you plan to expand your online presence or start a new business venture under another name. There are many places to get hosting from do your research and compare pricing. Looks for something that offers unlimited domain addons/emails/bandwidth and has a Cpanel to manage the websites back end.
2. Cost equals Quality, you will have to pay a lot for a good website.
This is true and false, I've  seen people pay very little and  walk away with amazing sites. I've also unfortunately seen the opposite, sometimes you do get what you pay for. I've also seen people get quality sites but also get ripped off. You do not always have to pay a lot of money for a good site there are ways of getting very high quality sites and not breaking the bank but a lot of designers will not present you with this option up front. If you're on a budget you can spend $120 on your name and hosting  for the year, install a wordpress and find a premade theme for $70 or cheaper. You can then pay a designer to install it for you. It can cost you anywhere from $100-$400 paying a designer to install and setup a theme verses getting one built from scratch and paying upwards of $1000. Some designers will even overcharge you for work and buy a $50 theme and tweak it without telling you that's what they did. In the end the results are nice but you are overpaying and not getting an original design built from scratch like you may have assumed you were. That isn't an honest practice.
3. You have to pay in full, up front for your website.
Now this is really at your own risk and I use the word risk very heavily. Paying someone up front can have a way of backfiring. What if they decide to run off with your money and never do any of the work? I always go with a 50% deposit to start jobs and the rest when the job is completed. My client wont get a live site until I am paid in full but you should NEVER pay someone in full up front just because you may have to part ways before the project is completed.
4. I can't make these edits/changes.

If you pay, it's your designers job to give you what you want even if they don't always agree with the aesthetic. Now it's a given some clients don't understand how coding or certain website things function and some things just aren't possible. It's possible you may get a designer who really doesn't know how do certain tasks because they are inexperienced. That's a problem that you need to be careful with. Make sure you hire a designer who has knowledge about the coding and the scripts you are installing and the features you need, not someone who is totally unfamiliar with the system you are trying to use. Ask them question and make sure they are seasoned designer.
5. ………………

No communication, if you start a project and you go days or even weeks in between emails and your designer takes forever to respond that's a big problem. Create a deadline for your project and enforce it. Make sure you yourself are on top of the communication needed on your end. Be prepared with content or information needed and make things as easy as possible on your designer. If there is a lack of communication on their end and things are being dragged out it is better to sever ties and move on.
Hiring a designer is a tough job but if you come prepared and know the right questions to ask things will be so much easier on you and your designer. Research companies to purchase your domain name and hosting and make a purchase before seeking a designer. Have a clear vision for your site, what your sites purpose is, what features it needs, how many pages and what type of content will be displayed. It is always helpful to gather example sites that have elements that you would like to model your site after. Make sure you have any text, pictures and video content for your site gathered and ready to email your designer. Make sure to ask the right questions to your designer regarding your budget and let them know if you want to hire them specifically to install a premade template or theme rather than building a site from scratch.
If you have any questions about obtaining a website you can leave them in the comments. I am also available for hire and will soon be releasing a course series ebook and videos on my youtube channel teaching you how to make a high quality website all on your own and another series on how to start an online business with basically no budget. Happy website hunting.
Save
Save
Save
Save
Save
Save