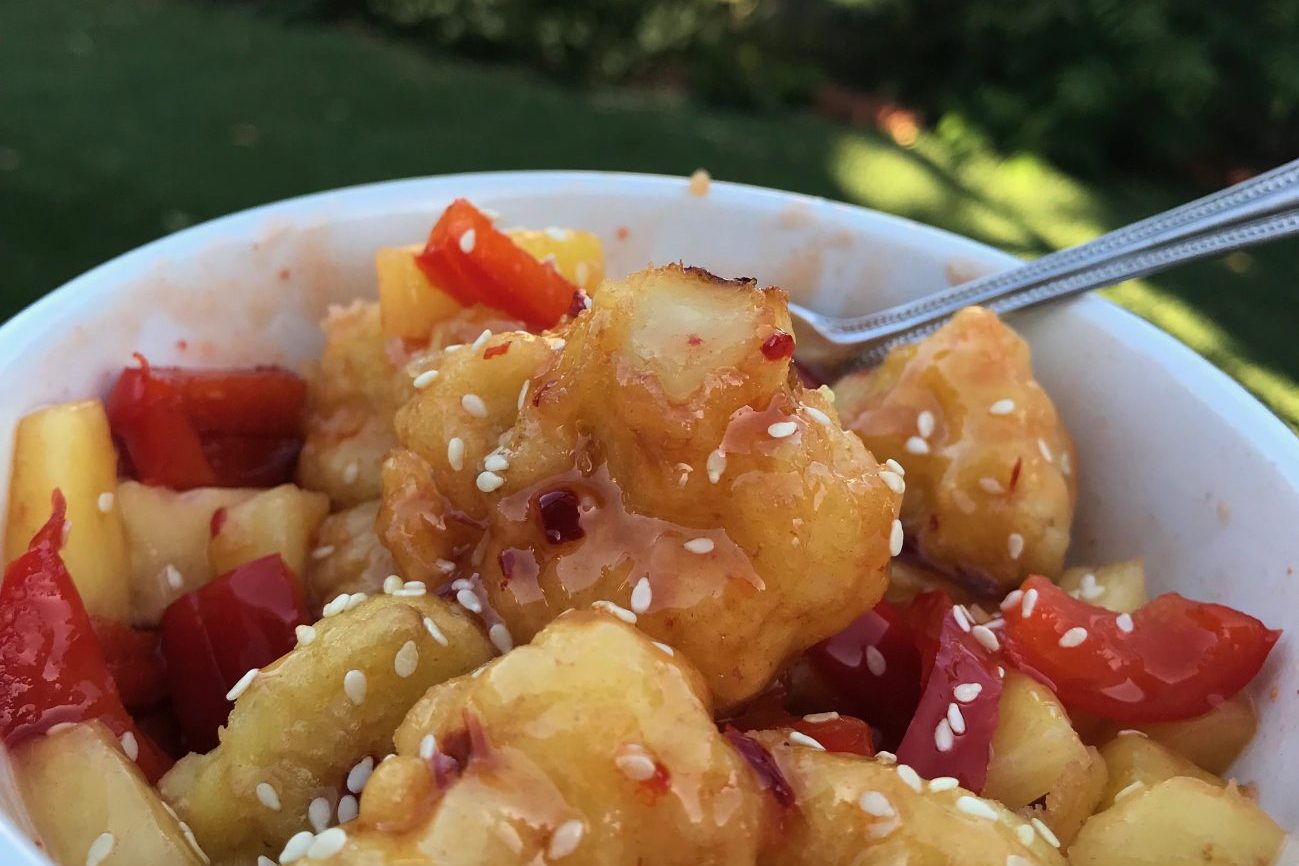 Vegan Panda Express Sweet Fire Chicken Recipe
So I'm not exactly vegan but I'm working my way there. I absolutely love Chinese food! Sweet & sour chicken, sesame chicken, orange chicken and I'm pretty sure you guessed by the title of this blog Panda's Sweet Fire Chicken. It's a challenge to leave behind dishes you really enjoy as a non vegan but it makes it 10 times easier once you find something to replace that craving of meat with. For me Cauliflower has changed the game, I can pretty much make all these dishes and replace the  "chicken" with a battered cauliflower. I honestly enjoy it even more than I did before. So I'm going to give you a recipe for how I make my vegan version of Panda's "Sweet Fire Chicken" it's really simple and easy to make!
Cauliflower Tempura
1/2 cup flour
1/2 cup tapioca starch
1 Teaspoon salt
1 cup of water
Sweet Chili Sauce
1 cup water
1 cup rice vinegar
1 cup sugar
2 teaspoons fresh ginger root (minced)
1 teaspoon garlic (minced)
2 teaspoons hot chile pepper (minced)
2 teaspoons ketchup
2 teaspoons cornstarch
1/2 cup diced pineapples or more (optional)
1/2 of a sliced red bell pepper (optional)
1/2 cup sliced onion (optional)
1 teaspoon Seasme Seeds
Cauliflower Tempura
Mix dry ingredients then add water,  drench cauliflower pieces in batter. If the pieces are too runny sprinkle with more flour & stir.  Deep fry the cauliflower and pat off excess oil.
Sweet Chili Sauce
Bring water and vinegar to a boil, add in other ingredients (red bell pepper, onion, pineapple are optional. Cook with sauce, separate or not at all).
Simmer for 5-7 minutes, remove from heat and let cool. Pour sauce over cauliflower then top with sesame seeds. (optional brown sesame seeds in pan)