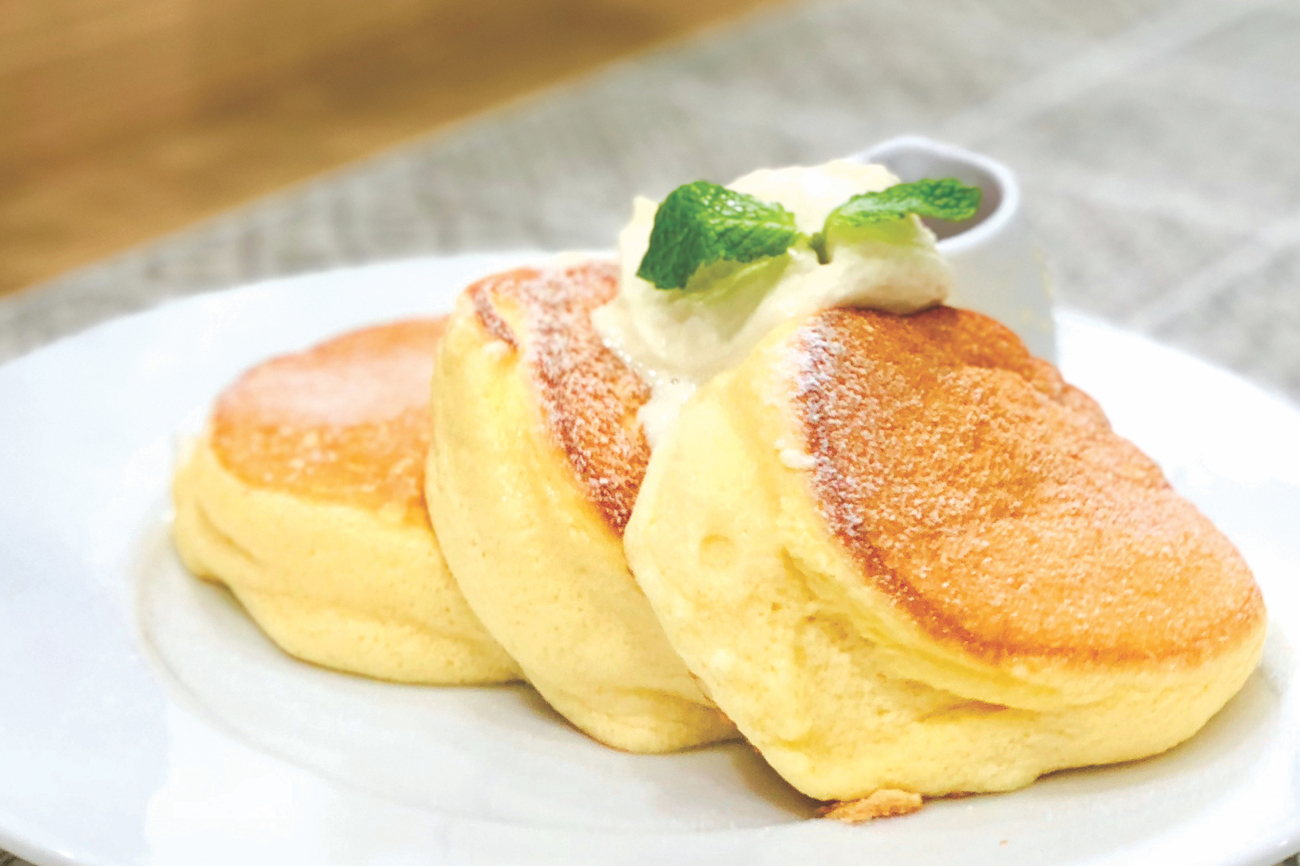 Japanese Souffle Pancakes
So I followed the video below (above the footnotes) with it's included recipe. I added lemon zest and  there are plenty of other footnotes you should read before attempting to make this recipe. I made it 3 times before I got it right and the video does not go into detail on some of the things that are vital to a good turnout.  If you've never made a meringue before it can be challenging, you need to do everything right or it can go wrong easily. The meringue is the most important part because it's what gives the pancakes their thickness and airy texture. Do it wrong and you will have regular flat pancakes. They'll still taste good but obviously will not be the same size and texture.
RECIPE (makes 3 pancakes)
Batter:
2 Egg Yolks (from eggs that weigh 58-60 gr. each with shell)
20 gr.  Whole Milk
10 gr. Vegetable Oil
1 tsp. Vanilla Essence
1 tsp Lemon Zest
30 gr. All purpose Flour
Meringue:
3 Egg Whites (from eggs that weigh 58-60 gr. each with shell)
1 tsp. White Vinegar
40 gr. Fine Sugar
BAKEWARE
2 glass bowls
Whisk
Electric mixer
Postal or Food Scale (that measures in grams)
Piping bag or Ice cream Scoop
Non stick pan with a metal lid (do not use glass)
make sure the lid is tall enough to not touch the top of the pancakes you can also use a metal pot which I actually preferred
FOOT NOTES
– Put your pan on low heat before you start mixing ingredients so by the time you're done you can go straight to cooking. Meringues fall flat the longer they sit.
– If you're using a pot as a lid also put the pot on a burner with low heat. Once you start cooking if the pot (lid) is cold it will take heat away from the pan and the pancakes will take longer to cook.
– Make sure you use glass or metal bowls (not plastic) to mix your ingredients. Use white vinegar on a paper towel to wipe any residue away. Any bit of oil can cause your meringue to fall.
– Room temperature eggs are a MUST also make sure they are not fresh a few day old eggs are better
– When separating your egg whites make sure no yolk gets in them this will cause your meringue to fall
– When mixing your egg whites into meringue mix it to a thick foam then gradually DUST in the sugar and mix until its all added in dont ump all the sugar in at once
–  Be careful not to overmix the meringue you'll know its done when you can turn the bowl upside down and nothing falls out. So mix and check it once you can turn the bowl over STOP.
– Use a whisk to add the meringue into the batter. Don't put it all in at once (the video shows you how to add it in) mix it but try to mix it as least as you can. The more you handle the meringue the more air it loses. Once the meringue is fully incorporated into the batter it shouldn't be runny. It should hold it's shape and look fluffy. If not you will have lat pancakes.
–  Use vegatable oil to oil the pan wipe excess off with paper towel
– I cook one pancake at a time and put them on a rack over a burner that's on low heat so they stay warm but don't over cook
– Use a piping bag or ice cream scoop to dollop the batter onto the pan then sprinkle warm water around the dollop (not on it) this will create steam once you place on the lid and help it cook faster. It takes anywhere form 3-5 minutes. After it looks cooked enough to where you would normally want to flip it over  DON'T. Take your spatula scoop it up and remove it from the pan. Then place another dollop of batter on the pan around the same size and place the partially cooked one on top of it, cooked side facing up. Use a spoon to spread the edges of the batter to connect the two as one pancake. Sprinkle more warm water around it and then place the lid back on and let it cook another 3-5mins until its done.