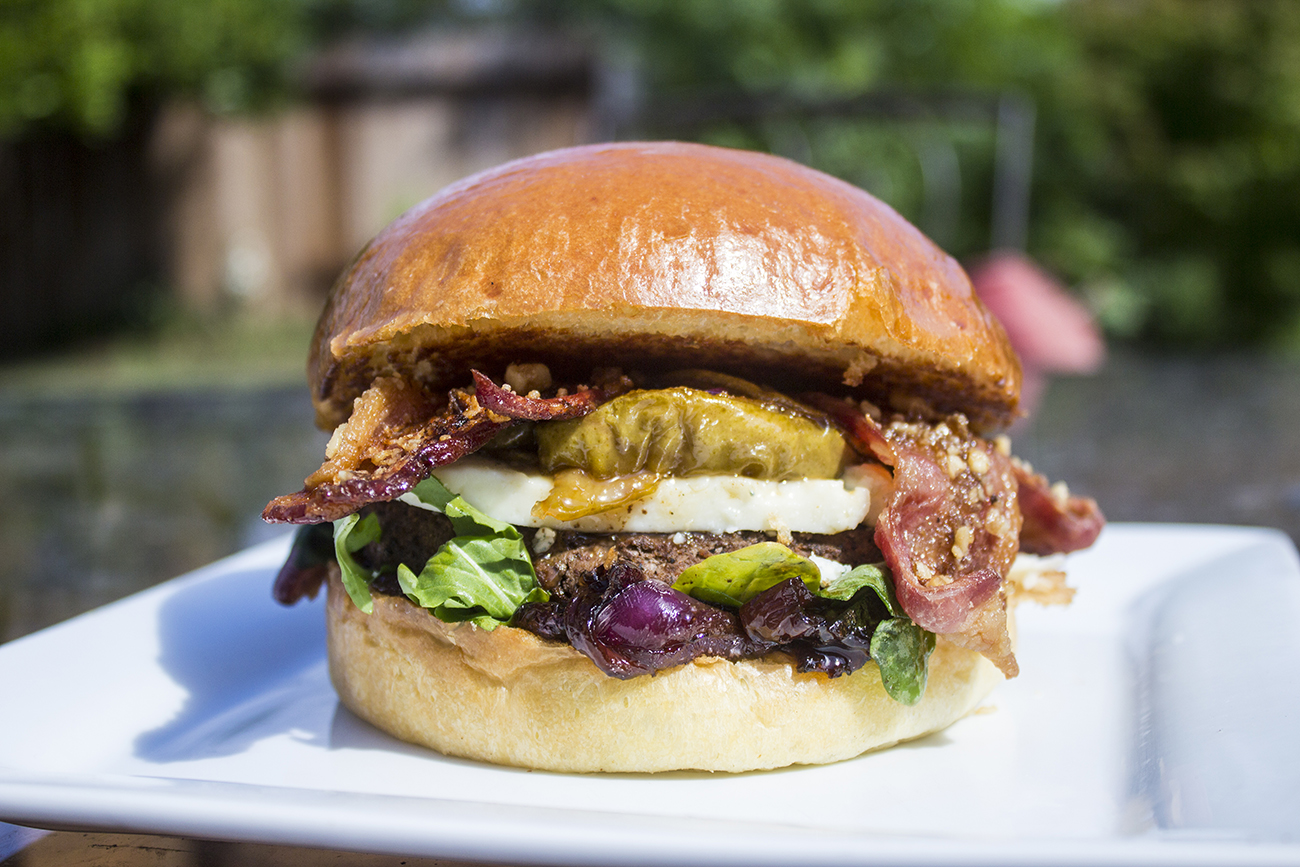 The Blue Pear Burger Recipe

The first time I had a burger with pears and blue cheese I was at the Elephant Bar in Emeryville Ca. and instantly fell in love with it. I knew it would be something that I wanted to eat again but didn't necessarily want to go out of my way to get, especially if I could make it at home. So I scoured the internet for a recipes of burgers cooked with pears and finally found one I could tweak to my liking. The blue pear burger recipe features caramelized pears,  balsamic red onions, arugula leaves, and is topped with blue cheese and crispy maple walnut bacon. The flavors go so well together and it is very close to the original Elephant Bar burger with the exception that I added bacon and different herbs and spices to the patty. I named it the blue pear burger obviously not bcause the pears are actually blue but they are topped with blue cheese. Any who, here goes the recipe. Enjoy.
Burger & Burger Seasoning:
2 Beef Patties
2 tsp paprika
1 1/2 tsp ground black pepper
1 1/4 tsp salt
1 tsp brown sugar (dark or light)
1/4 tsp garlic powder
1/4 tsp onion powder
1/4 tsp ground cayenne pepper
Balsamic Onions:
2 tablespoons olive oil
2 tbsp balsamic vinegar
1 tbsp maple syrup
½ red onion sliced thinly
2 tbsp red wine (optional)
Bacon Topping:
A small handful of walnuts
4 pieces of Smoked Bacon
3 tbsp of Maple Syrup
Caramelized Pears:
1 pear (sliced)
1 tbsp of butter
1/2 tbsp of White sugar
1/2 tbsp of Brown sugar
Other Toppings:
2 Brioche Buns (cut in halves & toasted)
Handful of Argula Leaves
2 Slice of Blue Cheese
1. Prep Your Beef Patties. Mix paprika, ground black pepper, salt, brown sugar, garlic powder, onion powder and ground cayenne pepper in a small bowl and coat both sides of beef patties with the seasoning. Be generous. You can also mix this into the meat instead of coating the sides.
2. Prep your Bacon. Preheat your oven to Bake at 350 degrees. Take your baking sheet and line it with foil. Place 4 strips of bacon and glaze them with maple syrup and then sprinkle your crushed walnuts over the bacon. Sit to the side and when you begin to cook your patties cook the bacon in the oven for 15 minutes until the edges are crispy or to your liking.
3. Heat 2 tbsp of Olive Oil and Red Onions in pan on Medium low for about 10 minutes until the onions soften.
4. Add in 2 tbsp of Balsamic Vinegar, 2 tbsp of Maple Syrup and 2 tbsp of Red Wine (optional) to your onions. After 1 minute of the sauce boiling turn heat down to Low and cook until sauce thickens up. It shouldn't be runny but a thick syrup like consistency. I like to taste the sauce and add in more Balsamic Vinegar and maple Syrup until it has the balanced taste I like. Some may like their sauce a bit more sweet than vinegary.
5. In a pan on medium low heat melt 2 tbsp of butter and then place in your sliced pears. Allow them to be coated in the butter and soften then sprinkle them with white and brown sugar. Allow the sugar to boil/bubble then lower the heat. When you notice the sugar start to thicken you can leave the pan on a very low heat to keep them warm.
6. Place your bacon in the oven for 15 minutes.
7. In a pan on Medium High heat place your beef patties cooking both sides for 5 minutes or until your liking.
8. Butter Your Brioche buns and on a high heat toast the insides of the bun in the pan.
9. Lay your Brioche bun down, then lay your Balsamic Onions, top with Arugula Leaves then place your Beef Patty Down. Top your Beef Patty with Blue Cheese then Caramelized Pears and lastly your Walnut Maple Bacon and top bun.